Linking up with some of my FAVORITE bloggers for #SorryNotSorry
Here are a few things I'm NOT sorry for.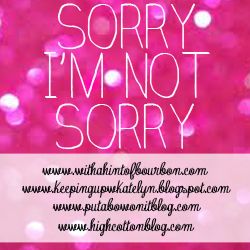 #SorryImNotSorry That I don't get fashion bloggers. Stop taking pictures of yourself wearing more brands than a department store.
#SorryImNotSorry That I make jokes about all y'all in blog land who call yourselves Southern Belles. My "Ride or Die" is pretty much a modern Belle and she's got y'all beat by a mile. You just think you're a Belle.
#SorryImNotSorry That I sat in the Sonic parking for 15 minutes last Thursday, waiting for it to hit 2pm, before placing my order so I could get the happy hour specials.
#SorryImNotSorry That I will judge you If you say your from the South but you's y'all wrong. I don't care about the rest of your grammar.
#SorryImNotSorry That I make fun of the states: Kansas, Oklahoma & Alabama on the reg. I'm from Texas. It's what we do.
#SorryNotSorry That I think the current administration in the White House is a bunch of idiots who are our of touch with reality. Socialist and Communist ideas didn't work then and they won't work now.
#SorryNotSorryv That I LOVE Alana
Just a few things I'm not sorry for on this Wednesday morning.