Day 19, Sunday:

Five of your favorite blogs and what you love about them
Insert pic of me at Christmas with some vintage Southern Living Cookbooks I got. I fangirled like a tenny bopper at a Bieber/TSwizzle Concert
So, I do a lot of reading and scouring the internet. My Momma used to tell me, "If you spent half as much time doing productive things than you do on the internet and social media you'd be in business!" Let's recap a few of my favorite website/blogs that I read on a daily basis but don't necessarily meet today's prompt
Bourbon and Boots
Back Down South
The Rules
Texas Monthly
Gun and Garden
Southern Living
&
TMSG
Welp, on to the actual prompt of the day. Here are my favortie bloggers in no paticular order.
First we have Ms. Whitney Pants. If you've never read her blog then you're doing it all wrong and need to get your life right. Girl, be havin' me laughin up my sweet tea. But more than that she is real and honest about things. She can get emotional without making you feel emotional.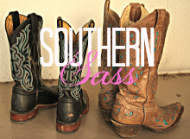 What can I say about Sydeny! She is hilarious as well. You wanna meet a REAL country girl than look no further. She was one of the first blogs I started following. She was also one of my fist followers. I feel like we are connected. She's always blogging about the lies post-grad brings. She never fails to make me say, "Girl you need to STAHP!" And she's roommates with the rents. That's my kinda girl.
Beth blogs over at
Shug in Boots
. This Carolina girl is a true Southerner. She never fails to amaze me with her wisdom. I also love how she isn't a cliche lifestyle blogger and does what she wants when she wants.
Kaitlyn, blogs at Put a Bow on it. It turns out we attended the same college for a short time before she transferred and knew some of the same people. I love the everyday light hearted feel her blog has.
If you haven't noticed most of the blogs I follow are along the same lines. I think that is one of the things I am loving about this challenge. It is allowing me to step outside my reader box and see the world of blogging. There are so many bloggers and different types of blogs. I am meeting and reading blogs I would have never embarked on.
For day 19 of 31 I know I only did 4 but whatevs.
SHARE THIS
|
PIN-IT
|
TWEET IT