Big ups to MLK Jr. for begin AMAZING and thus I got to sleep in this morning.
In honor of MLK Day, All the Sweet Tea if you know this song: "They passed a law in '64, To give those who ain't got a little more, But it only goes so far..."
Y'all see how I tried to update the blog and make it look less like a 13 year old playin' around in her room. Yay, it may have taken hours but I'm [pretty excited about it.
To start: This post probably won't be that funny in nature like my normal posts. If you are Pro-Choice or offended easily....
(here is all the fracks I give)
No, but seriously, y'all might not want to read this post if you are the latter.
I went to one of my FAVORITE restaurants on Friday. Houlihans has great deals on drinks and food at their daily happy hour. They also have a nice patio and that is where we usually sit. I love being right next to the fire. They also put your bill in these old tape cases. The cases are usually decorated with the live band that they are featuring that week. They are always local bands.
Saturday was the Dallas March for Life. This was my first time going and it was absolutely insane. If you didn't know, Dallas March for Life is a yearly rally for the Pro-Life movement. There are services that happen all morning and then there is a peaceful walk to the courthouse were Roe v Wade was filed.
(Yes, it was filed here in Dallas.)
Norma McCorvey is now a HUGE supporter in the Pro-Life movement.
(She's the Roe in Roe v Wade, y'all)
Some of the speakers were very powerful. Especially the girl whose Momma aborted her but she survived the abortion. The fact that she had such a hard childhood and still praises Jesus with a smile on her face is BEAUTIFUL. It's a really long story but my Momma choice life. I know all our parents chose life but my Momma literally chose life despite what the doctors kept telling her. And that is why the issue of abortion is to important to me.
The Pro-Life dinner is next month and the guest speaker is Justin Biebers Momma. Someone buy me a ticket.
Sunday after church we went to some Mexican Restaurant. I don't remember the name but this salsa right here was AMAZING. Best salsa this side of the Trinity River. Y'all it was SOOOO good.
Who else is watchin' the Inauguration and NOT impressed...
Y'all, I had the craziest dream last night. A ghost was trying to take my soul. Y'all best believe I woke up terrified like a 5 year old scared of the dark. I said a lengthy prayer and Jesus took care of that. Oh, and y'all say a prayer for these job emails I sent out this morning.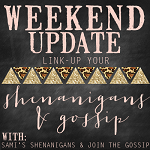 SHARE THIS
|
PIN-IT
|
TWEET IT